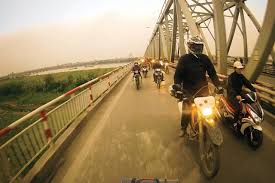 Overview: This is one day Vietnam motorbike tour around Hanoi and Bac Ninh province. The tour offers several beautiful and traditional villages in Hanoi and the 'next door' province of Bac Ninh such as Bat Trang ceramic village, Dong Ho folk painting village and beautiful But Thap pagoda. Just one day motorbike tour to discover the hidden charm of Hanoi and nearby, it is a combination of adventure and relaxing travel. This interesting Hanoi Motorcycle Tour is not suitable to the novices, because the tour passes some busy city roads, so the inexperienced riders or novices had better to join the tour at the back of motorbikes.
Highlights: Learn how to make quality ceramic production, enjoyable motorbike through rustic villages, and rice fields. discover the custom and religion of the Viet people living in the Red river delta.
Detailed Program:
At 8:30 am, Tour departs from your hotel in Hanoi, Tour guide and staffs of Vietnam Motorbike Tour Rides will come to you at your hotel and we start motorcycle touring from your hotel to the northeast of Hanoi to get on the Red river dike road to ceramic village of Bat Trang. We will be there after one hour riding, leave the bikes in parking area and have short walk around the village to discover the daily life of the local and learn how to make a quality ceramic/china production from the friendly people here.
( Bat Trang is the small village to the north of Hanoi, is about 15 kilometers from city center, on the other side of Chuong Duong bridge. Why is its name popular to most tourists to northern Vietnam? The answer is its ever famous ceramic and pottery products of high quality. If you have known about Vietnam, you may not be surprised that Bat Trang's vases, bowls, dishes, and many other kinds of ceramic products have been exported worldwide. Should you would like to contemplate workers making ceramic products by hand, just come here! What's more, you can also try it yourself! )
After a short Bat Trang walking tour, getting back to the bikes then we keep riding to the traditional province of Bac Ninh via some rustic villages and rice fields. Lunch si served in the casual local restaurant.
In the afternoon, we will have another walk to the famous folk painting village of Dong Ho where the local make the traditional paintings/folk paintings. Each painting looks simple but it has its own meaning. Next to the village of Dong Ho there is a beautiful pagoda But Thap where you can learn more about the religion and belief of the local. After that we will motorcycle back to Hanoi, finish the interesting Vietnam motorbike tour around Hanoi in your hotel at around 4:00 pm.